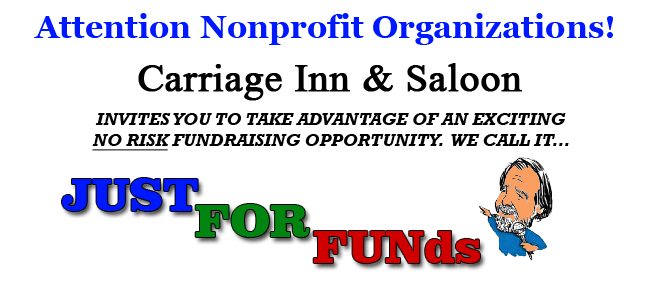 Everyone knows that raising money for a non-profit organization can be difficult, time consuming, expensive and unsuccessful.  Many times these efforts can actually result in financial loss.  That's why we are offering "Just for Funds," a uniquely different fund-raising concept, produced exclusively to assist charitable causes.
With "Just for Funds" all the work is done for you.  We have arranged for a beautiful venue, a delicious all you can eat buffet and the entertainment.  We can even supply promotional material.  All you have to do is bring an audience full of your supporters to enjoy the show.

What is "Just for Funds"?
Hosted by Dave Kane, "Just for Funds" is an evening of fun, games, comedy, and lots of laughs.  After your guests enjoy a delicious meal, the fun begins. Everyone will have a great time as Dave leads the audience through a maze of interactive comedy, laughter and surprises.
"Just for Funds" is offered exclusively to charities, all year long.  This gives you plenty of time to choose a date and get your group together.  Remember, tickets for "Just for Funds" will only be made available through local nonprofit organizations and for every ticket you sell, your charity receives $10.

Here's how it works:
Call your selected venue to reserve a date.
Get busy selling tickets.  Remember you don't buy your tickets for "Just for Funds" until you have yours sold.
On or before your reservation deadline, call the venue again to confirm the number in your party and arrange to pick up your tickets.
Enjoy a great evening of food, fun and fundraising.
- Choose the Community-minded location most convenient to you. -
For details call:

1 Rhodes Place, Cranston, RI
401-467-7102